If you order within
Arrives by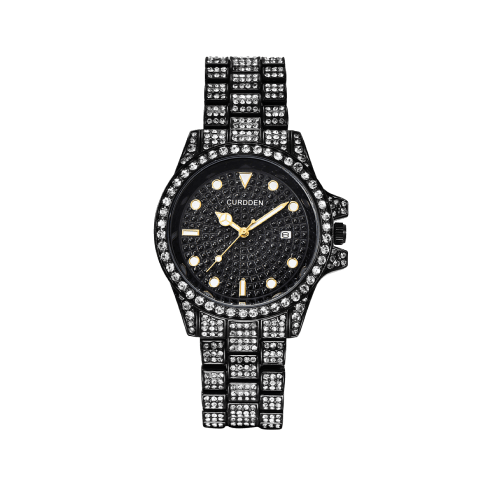 A luxurious accessory
Create an elegant look
The stunning Black Circle Watch conveys the very essence of dignity and functional elegance. Designed for both men and women wanting to create a gorgeous classic look, the Black Circle Watch is a refined and unique piece of jewelry, perfect for any occasion.
An elegant accessory
Your head-turning style starts on your wrist
Watch details
The watch has a coal black color. Its face and 9.4 in. long band are enchased with rhinestones, creating a beautiful gleam as they catch the light.
Easy to take care of
You'll be glad to know that stainless steel jewelry doesn't get corroded or rusted. Keep the watch in a cool, dry place. If stained, dry with a soft cloth.
Little details for irresistible glam
Inspired by classic jewelry, this stunning watch can add respectability to your daily looks. Wear it with both classic and casual outfits.
Long lasting & durable
The Black Circle Watch is a high quality watch crafted from stainless steel, the metal that can withstand many impacts.
A timeless gift
You can't go wrong when you choose a stylish watch as a gift! It is a classic for many occasions. Make your loved one feel cherished and adored with this splendid Black Circle Watch! Created with special attention to the details, it will never go out of style!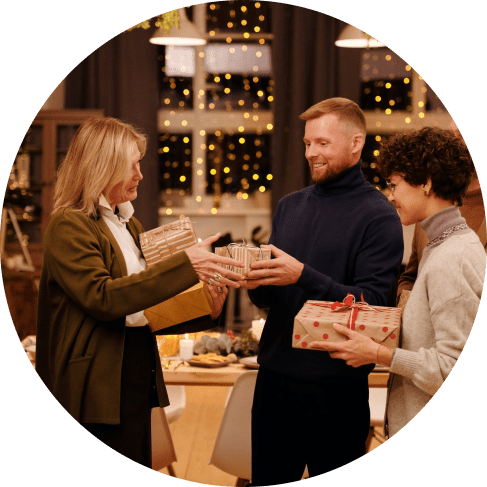 Reviews
Our reviews are verified for authenticity
Everything is fine, as in the description. The watch has a beautiful black color, so it is bright, but not too much. The rhinestones look nice, sparcling, and I like that the dial is all black, it's easy to read when it's sunny. I had a watch with stones at the dial and it sparked so it was hard to look at it. It is also not too heavy, very comfortable to wear, I don't get tired of it.

I wear it every day. No complaints. Great quality. The mechanism is excellent-the time is accurate (do not hurry and do not lag behind).

Beautiful watch, designed well. It looks very good because of this deep black color, and the dial is easy to read

Bought it for my wife, but changed my mind and now I wear it :) looks good, very stylish

The clock looks solid, heavy. On the hand it looks chic. Very bright, like it.

Product has excellent quality, unique. Heavy and sturdy as described.

For the price it is an excellent watch, it is beautiful and looks elegant.

The watch is chic, looks better than in the picture, I'm very happy

Beautiful watch. Exactly as the description says. Recommend.

The watch is cool. It looks expensive. Quite heavy.

The watch is chic, it looks very expensive!

Very good, high quality and very beautiful

It's good, but i wish they'd be waterproof

I like the quality and the color, very good

Not a bad watch, my husband liked

Great quality, worth buying!
About us

Welcome to ZLA, your destination for innovative and unique fashion clothing. Founded in 2023 in Los Angeles, CA our mission is to provide you with cutting-edge fashion solutions that inspire confidence and empower self-expression.

At ZLA, we believe that fashion is more than just clothing; it's a form of art that allows you to showcase your individuality. That's why we curate a diverse collection of fashion clothing that caters to all styles, from timeless classics to bold and avant-garde designs.

Why choose ZLA for your fashion needs? Here are some frequently asked questions about our fashion clothing:

Q: What makes ZLA's fashion clothing unique?

A: Our fashion clothing is carefully selected from emerging designers and independent brands who prioritize creativity and quality. You won't find mass-produced items here; each piece is a work of art that tells a story.

Q: Do you offer sustainable fashion options?

A: Absolutely! We believe in responsible fashion, which is why we offer a range of sustainable and eco-friendly clothing options. From organic fabrics to ethically sourced materials, you can shop with a clear conscience.

Q: Can I find clothing for all occasions at ZLA?

A: Yes! Whether you're dressing up for a special event or looking for casual everyday wear, we have you covered. Our collection includes everything from elegant dresses and tailored suits to comfortable loungewear and athleisure.

Q: How do I know if the clothing will fit me?

A: We understand the importance of finding the perfect fit. That's why we provide detailed size charts and measurements for each item. Additionally, our customer support team is always ready to assist you with any sizing questions you may have.

Q: What is your return policy?

A: We want you to be completely satisfied with your purchase. If for any reason you're not happy with your fashion clothing, we offer hassle-free returns within 30 days of delivery. Your satisfaction is our top priority.

At ZLA, we believe that fashion has the power to inspire, uplift, and transform. Explore our collection of innovative fashion clothing and discover the perfect pieces to express your unique style. Join us on this fashion journey and let your individuality shine through.
Contact us